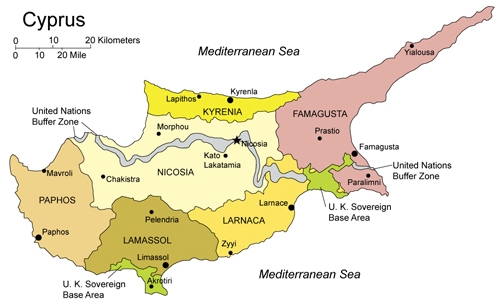 The Republic of Cyprus is an island nation located in the eastern Mediterranean, opposite the Turkish mainland. The state gained independence from the United Kingdom on 16 August 1960. In 1974, the island state was divided in northern and southern Cyprus.
Since 1 May 2004, the Republic of South Cyprus has been part of the European Union. On 1 January 2008, the Cyprus pound was replaced by the euro.
Cyprus is the third largest island of the Mediterranean. It belongs geographically to the Asian continent, but is politically and culturally assigned to Europe. The highest point of the island is the Olympos (1951 m) in the Troodos Mountains. In total, 19% of the island area is covered by forest.
The southern part of Nicosia is the capital of the Republic and the economic center of the island. The three seaport cities Larnaca, Limassol and Paphos, linked by the South Coast Motorway, are also important economic centers of the Republic.
Climate
Cyprus has a Mediterranean climate. The temperatures are higher than in the northern Mediterranean and from the Levantine coast often hot desert winds blow over the sea. The Mediterranean around Cyprus has the highest water temperatures in the whole area.
It is dry from May to October. Nicosia has an average high of 37 ° C in July and August. On the coasts, it is usually warm during the summer at 30 to 35 ° C, but due to the coastal location always blowing a pleasant breeze. The west of the island around the city of Paphos is 2 to 4 ° C cooler than the east. Rain falls mainly from November to April. In winter the temperatures are between 15 ° C and 20 ° C during the day.