Overview
Updated On:
August 22, 2023
Description
High-class project with a 5-star hotel concept in Esentepe, North Cyprus
Situated in the heart of Esentepe in Northern Cyprus, this brand-new project benefits from its
proximity to key facilities in the region, including a prestigious five-star Korineum golf course, a marina,
supermarkets, a pharmacy, and Esentepe village itself. It stands as the largest lifestyle project, offering
convenient access to the Kyrenia city center and Ercan airport, making it highly attractive to both
investors and holiday guests. With a focus on family and social lifestyles, the project boasts a bunch of
services and facilities provided within the complex including swimming pools, cafes, restaurants, sports,
and children's facilities and much more.
The remarkable project takes place on a land's size a total of 87.763 m2, comprising 522 units ranging
from studios to 1-, 2-, and 3-bedroom garden apartments or loft penthouse apartments. Embraced by
picturesque natural surroundings, this spacious haven offers a luxurious and peaceful living
experience. While ground floor units can offer you a private garden area, loft penthouse units have a
large private roof terrace. Luxury apartments with a direct sea and mountain view in Esentepe, North
Cyprus.
COMPLETION DATE:
Sunny Hill (Phase 1) – October 2026; Lake Garden (Phase 2) – January 2027; Oasis
(Phase 3) – April 2027
Studio garden apartment: closed gross area 38-45,2 m2 + terrace 5-5,7 m2
Starting price is 124.900 GBP
Studio penthouse apartment: closed gross area 38 m2 + terrace 5 m2 + roof terrace 29,8 m2
Starting price is 149.900 GBP
1+1 garden apartment: closed gross area 54,6 + terrace 6,9 m2
Starting price is 184.900 GBP
1+1 loft penthouse apartment: closed gross area 58-67,4 m2 + terrace 5-5,4 m2 + roof terrace 27,7-32,2
m2
Starting price is 209.900 GBP
2+1 garden apartment: closed gross area 73,2-94 m2 + terraces 14-18,9 m2
Starting price is 291.400 GBP
2+1 loft penthouse apartment: closed gross area 73,2-82,5 m2 + terraces 6,9-8,7 + roof terrace 39-61,8
m2
Starting price is 307.900 GBP
Beach: 1 km
Korineum Golf Resort: 600 meters
Esentepe Village: 5 km
Kyrenia: 20 km
Airport: 40 / 80 km
Why should you invest in this project in North Cyprus?
Wide range of properties
Huge number of facilities and services
Good rental potential and capital appreciation
Facilities:
Communal pool
Fitness center
Café & Bar
Basketball courts
Restaurant
Tennis courts
Business center
Skateboard ramp
Beach volleyball courts
Children's playground
Gated community
24/7 Security
Services:
Customer service
Transfers service
Nanny service
Room service
Shuttle service
Technical service
Housekeeping service
Maintenance services
Rentals
Payment plan:
35% – down payment
65% – 0 interest installments until completion
Price: € 147,000
Property Size: 50.00 m2
Property Lot Size: 134.00 m2
Rooms: 1
Bedrooms: 1
Bathrooms: 1
Other Agents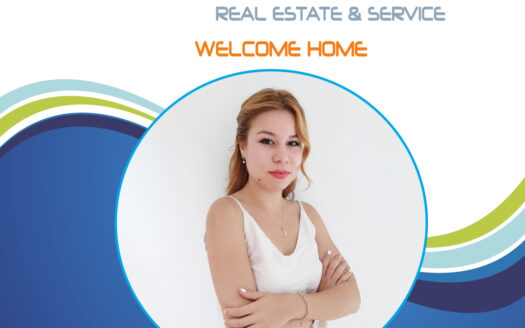 Sales & Service
Similar Listings
For Sale
FOR SALE
hot status
1-3 Rooms
1-2 Beds
1-2 Baths
41.00 m2
For Sale
FOR SALE
hot status
3-4 Rooms
2-3 Beds
1-3 Baths
110.00 m2
For Sale
FOR SALE
hot status
1-3 Rooms
1-2 Beds
1-2 Baths
34.00 m2