Description
Largest project with studios and loft penthouse units for sale in Esentepe, Northern Cyprus
With this brand-new and exclusive project, which is the largest ever complex located in the scenic
village of Esentepe in North Cyprus residents will explore an all-inclusive lifestyle. Located just 450
meters away from the Mediterranean Sea, direct sea and mountain views will accompany you all year
round. With all of the necessary infrastructure, amenities and the largest communal facilities within the
area a fresh life awaits its residents.
With 20 communal blocks for market, pharmacy and other amenities, there are 100 blocks with studios
and 1-bedroom loft penthouses available. The 1-bedroom loft apartments come with a roof terrace that
has a barbeque and kitchen area with a pergola. The residents will be able to use all of the necessary
facilities along the whole complex. Extravagant project of luxury apartments with sea and mountain
views for sale in Esentepe, North Cyprus.
COMPLETION DATE: 2027
Studio garden: closed area 43 m2 + balcony 6 m2
Starting price is 99.000 GBP
1+1 garden: closed area 67 m2 + balcony 12 m2
Starting price is 139.000 GBP
1+1 loft penthouse: closed area 60 m2 + balcony 6 m2 + roof terrace 36 m2
Starting price is 155.000 GBP
3+1 bungalow: closed area 125 m2 + garden terrace 45 m2 + roof terrace 120 m2
Starting price is 430.000 GBP
Beach: 450 meters
Bahçeli village: 5 km
All necessary infrastructure: Steps away
Korineum Golf Course: 15 km
Airport: 50 / 75 km
Why should you invest in this project in North Cyprus:
Largest ever communal complex and facilities in the area
Rental opportunity
Capital appreciation
Exit option for investors
Outdoor facilities:
Security cameras
4 km running/biking road (2 lanes)
Courts center – tennis court, basket base court, sand beach volleyball, paddle tennis
Dogs' garden
Organic garden
Farmers' market
Kids playground
Climbing wall
Outdoor fitness area
BBQ area
Zen garden yoga/meditation place
Swimming pools
Mini aquapark
10 km mountain trails – viewpoint terrace
Indoor facilities:
Indoor pool
Sauna
Steam room
Ice-shower
Underfloor heating in changing rooms
Jacuzzi
Private SPA
Landscaped indoor garden
Massage rooms
Holistic anti-ageing center
Fitness center
Co-working space
Bookable lounges
Conference hall
Cinema room
Restaurant
Bar
Mist lounge
Pool
Sport TV
Dancing space
Roof Bar with skylight star watching
Commercial facilities:
24-7 A&E project healthcare point
Supermarket
Café and brasserie
Bank/ATM
Car rental
Pharmacy
Bike/electric bike/electric scooter
Beauty shop/barber
Dry cleaners
Outdoor shop
Furniture shop
Payment plan:
30% – down payment
10% – 6 months after down payment
10% – 6 months after first payment
50% – interest-free installments for 36 months
Price: € 116,000
Property Size: 49.00 m2
Property Lot Size: 290.00 m2
Rooms: 1
Bedrooms: 1
Bathrooms: 1
Other Agents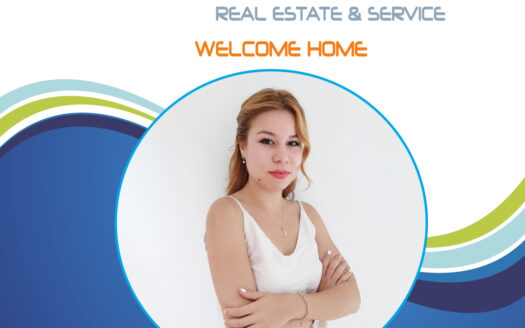 Sales & Service
Similar Listings
For Sale
FOR SALE
hot status
1-3 Rooms
1-2 Beds
1-2 Baths
41.00 m2
For Sale
FOR SALE
hot status
3-4 Rooms
2-3 Beds
1-3 Baths
110.00 m2
For Sale
FOR SALE
hot status
1-3 Rooms
1-2 Beds
1-2 Baths
34.00 m2